The Source Pahrump is One Year Old!
Celebrate With Your Favorite Pahrump Dispensary!
One year of The Source Pahrump...
We can't believe it, but it's been a year since The Source Pahrump opened our doors to the Pahrump community!
During that time we've had a ton of amazing events and deals, including phenomenal Green Wednesday promotions and a fantastic 4/20 community event! Plus we've donated thousands of dollars each month to Pahrump-specific charities, and even volunteered in local road cleanup projects!
We're not done yet though, you can expect another year of top-tier cannabis, exceptional deals, and the community support you've come to expect from The Source.
... but we've been in Pahrump since 2017!
Although our Pahrump store is only a year old, we've been deeply invested in the Pahrump community for quite a while now! 
You may not know this, but The Source has had a full cultivation facility in Pahrump since 2017! Named Wellness Orchards of Nevada, we've been cultivating premium cannabis hand-in-hand with the Pahrump community for six years. Both CAMP and High Heads flower is grown in Pahrump by local Pahrumpians, and now we have an amazing store to provide that community-grown flower to the masses!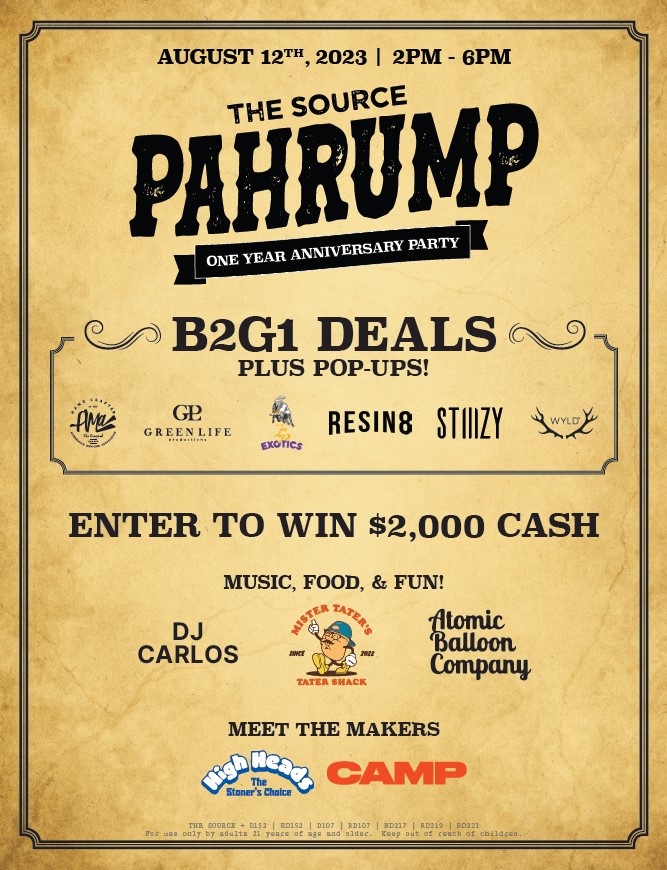 Here are some of the exciting things going on at the Anniversary Party:
B2G1 Deals ALL DAY LONG!
$2,000 CASH PRIZE GIVEAWAY!
Mister Tater's Tater Shack Food Truck!
DJ Carlos spinning tunes and setting the vibe!
Atomic Balloon Company making custom balloon art!
Meet The Makers pop-ups with the amazing people behind CAMP and High Heads!
Shop Our Menu Before The Party!
Pahrump's best cannabis assortment