The Source x The Great Santa Run!
VOLUNTEER FOR OUR LOCAL COMMUNITY
CELEBRATE THE HOLIDAYS WITH US!
'Tis the season of giving, and at The Source, we're excited to spread some holiday cheer. Throughout the month of November, we're thrilled to announce our support for Opportunity Village's Great Santa Run, an event that embodies the true spirit of the holidays. We invite our valued customers to join us in this noble cause, and we have some exciting offers to sweeten the deal. Not only will you save $10 on your registration, but you'll also receive a FREE select CAMP pre-roll when you bring in your race bib after the Great Santa Run. In this blog, we'll tell you all about this fantastic event and how you can be a part of it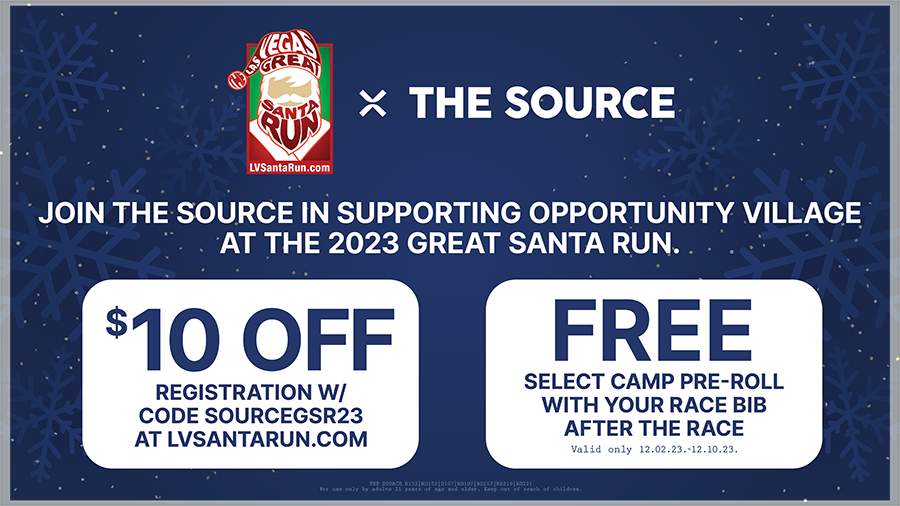 What is The Great Santa Run?
A VEGAS TRADITION OF GIVING!
For over six decades, Opportunity Village has been a beacon of hope and support for people with disabilities here in Nevada. Their dedication to helping individuals find the best version of themselves is awe-inspiring. Through various programs, including workforce development, community employment, day services, inclusive housing, arts, and social recreation, Opportunity Village has transformed lives, helping people with disabilities find new friends, explore future career paths, seek independence, integrate into the community, and nurture their creative passions.
The Great Santa Run is one of Opportunity Village's signature events, and it plays a significant role in their mission. This annual 5K run or 1-mile walk, where participants dress up as Santa Claus, is more than just a festive gathering. It's a powerful symbol of inclusivity, support, and love for individuals with disabilities. Every step taken and every Santa suit worn represent a collective effort to make the world a better place for those who need it most.
Learn more how you can get involved with Opportunity Village year-round here.
Join The Source Team and Save
BE A PART OF THE BEST IN THE WEST!
To encourage our customers and community to support this wonderful cause, The Source is forming a team for the Great Santa Run. When you sign up to be a part of The Source team at LVSantaRun.com, you'll receive an exclusive $10 discount on your registration. This means you get to contribute to a great cause while saving some extra cash during the holiday season. Get $10 off your registration with code SOURCEGSR23 at LVsantarun.com.
A Special Offer from The Source
GET REWARDED FOR GIVING BACK!
We're not stopping at the registration discount! At The Source, we want to thank you for joining us in support of Opportunity Village's Great Santa Run. After you've completed the run and proudly donned your race bib, bring it into any of our stores between December 2nd and December 10th. As a token of our appreciation, we'll gift you a FREE select CAMP pre-roll with your purchase. It's our way of saying thank you for being a part of this community enriching event. The Source is more than just your favorite neighborhood dispensary – it's a community of wellness minded friends looking to improve lives through the healing power of cannabis.
Get Involved and Get Rewarded
GET REWARDED FOR GIVING BACK!
The holiday season is all about giving, and when you participate in Opportunity Village's Great Santa Run with The Source, you're not just running in a Santa suit; you're running for a brighter, more inclusive future. Opportunity Village has been making a difference in the lives of people with disabilities for almost 70 years, and we're proud to support their mission.
We invite you to sign up for The Source team and take advantage of the $10 registration discount using the code SOURCEGSR23 at LVSantaRun.com. Join us in spreading love and cheer, and when you return with your race bib to The Source, enjoy a FREE select CAMP pre-roll as our way of saying thank you.
This holiday season, let's make a difference together. Let's be Santas for a day and support those who need it most. Join The Source and Opportunity Village in creating a brighter, more inclusive future, one step at a time!
SHOP AT THE SOURCE AND SUPPORT YOUR LOCAL COMMUNITY!