The Source Pahrump is NOW OPEN!
We're ready for your In-Store and Online Pickup orders!
(Make sure your store location is set to "Pahrump" to view our menus)
Visit Our Brand-New Cannabis Dispensary!
Our Grand Opening is August 13th, now open for in-store orders!
Earlier this week, we opened our doors at our Pahrump location for the very first time! We invited some of our friends, family, and coworkers to visit the store for a soft open and sneak peek of our newest location. And it was an absolute BLAST! 

Our very own Lillie Calvert, OG Sourcer and Pahrump native, was the first customer to purchase product at the new Pahrump dispensary! Lillie is the AGM of Customer Experience at the store, and it was only fitting to honor one of our OGs in the community by being the first customer at our store. We also helped serve our first customers as well, and everyone was thrilled to be among the first customers to shop!
We've had a presence in the local Pahrump community for years now, as The Source+ has operated a cannabis cultivation facility in the town since 2016! Our facility provides a source of jobs and cultivation expertise to grow the local community, and our cultivators have been excitedly waiting to share their hard work with their local community members, friends, and families!
Our GRAND OPENING event is this Saturday, August 13th! Check out the poster below for more information, we hope to see you there!!!
Pahrump Grand Opening - Sat. August 13th
Celebrate with food trucks, vendor pop-ups, a live DJ, and more!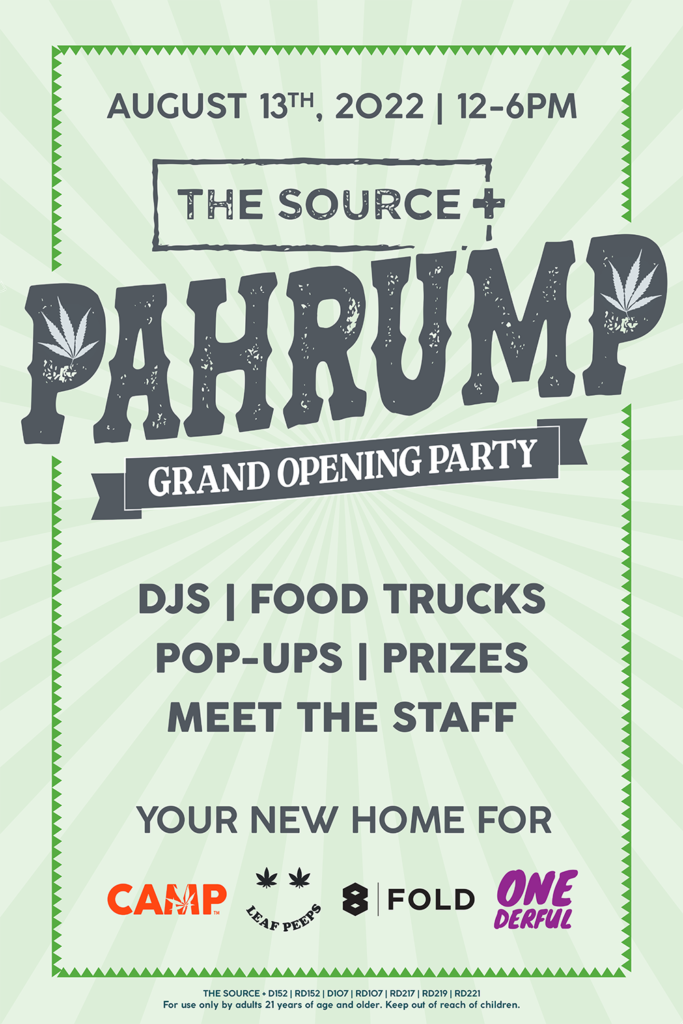 Shop Now At The Source Pahrump
Select "Pahrump" as your store location to browse below!