AEROPAY & KINDTAP PARTNER WITH THE SOURCE
Aeropay has teamed up with KindTap to create the cannabis industry's first consumer credit solution. This integration will allow Aeropay-powered cannabis operators to accept both bank-to-bank transfers and digital credit at checkout. The integration supports increased dispensary revenue and provides shoppers with a modern cannabis retail experience. Now dispensaries with Aeropay can offer customers two ways to pay at checkout. 
‍
Compliance has been a longstanding issue for both debit and credit card payments in the cannabis industry, but now with Aeropay and KindTap, a simple to use line of digital credit is available. Consumer credit, powered by KindTap does not run on the card rails, and is digital, offering customer to apply for a line of credit and pay over time. Furthermore, customers can access their account features through Aeropay without the need for any physical credit cards or paper statements. 
‍
So what is KindTap and what changes will you see in-store and online now that it's integrated with Aeropay? How can you use Aeropay at The Source? Let's find out!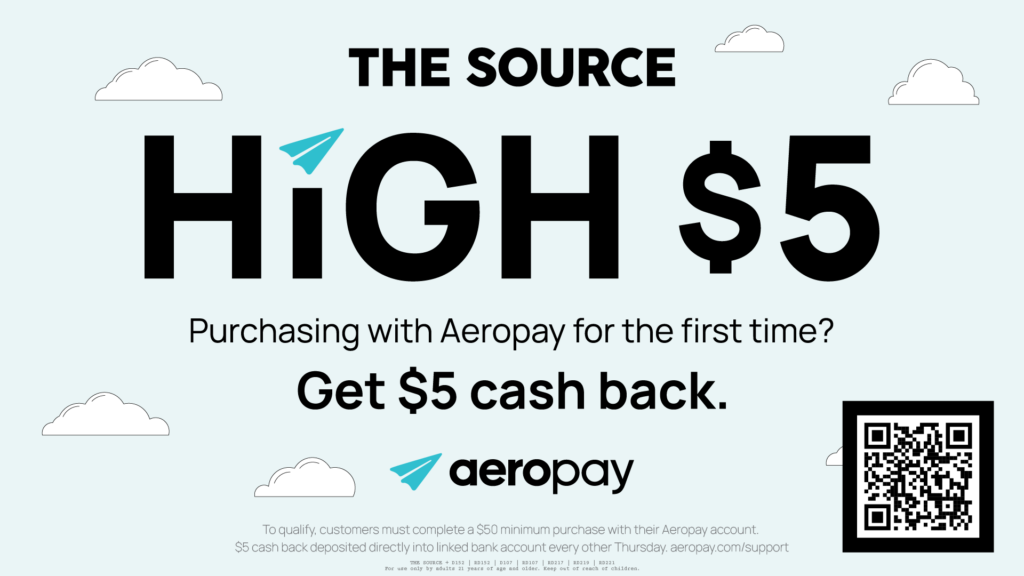 Cannabis Credit made easy
KindTap is a digital payments platform that allows customers to compliantly purchase in checkout and pay later with credit. KindTap offers end consumers a seamless sign-up process and digital credit that can be used instantly after approval at participating merchants. 
‍
The credit offering's flexible payment terms allow customers to pay their bill within 30 days with no interest or to pay their bill over a period of monthly installments. To protect customers from credit card debt, the credit solution, powered by KindTap, grants credit lines of up to $1,500 with shorter repayment terms to make money management more effortless. The interest rate added onto KindTap's revolving balances is 18%, a lower rate than most traditional credit cards.
Aeropay and KindTap collaborate to offer cashless checkout
Today, many shoppers prefer to shop online or with digital payment methods. Two-thirds of adults worldwide now make or receive digital payments. In the U.S. alone, eCommerce sales surpassed $750 billion in 2021. These trends inform how to create the ideal dispensary experience for consumers, and implementing Aeropay and KindTap allows you to have  flexible options when shopping at The Source.
‍
Flexibility and simplicity are both key for customers. With a cannabis payment processor like Aeropay, you too can have the necessary options to pay for cannabis in any way that you envision. Aeropay is a one stop shop for The Source. Not only that, but digital and contactless payments also greatly reduce the risk of theft in-store as well as for delivery drivers and consumers.
GET $5 IN CREDIT WHEN YOU FIRST USE AEROPAY
HIGH FIVE FROM THE SOURCE
We're excited for you to try Aeropay, so excited in fact that we're giving everyone a free $5 when you first sign up for Aeropay! 
To qualify, customers must first sign up for Aeropay and make a $50 minimum purchase through their Aeropay account. The $5 cash back is then deposited into your linked bank account, every other Thursday.
SHOP AT THE SOURCE WITH AEROPAY!